Allergen Awareness in Manufacturing Training Course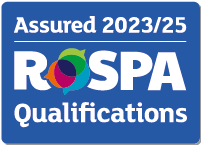 Unlimited Resits Customer Support Instant Access
Our Allergen Awareness in Manufacturing Training course will provide the learner with the knowledge and understanding of what allergens are, how they can become a food hazard and how they must be handled.
From the 13th December 2014, it has become UK Regulations that all involved in food production, know, understand and are able to provide information about any allergies in the food they produce. This will affect all aspects of food manufacture and will also reflect on the behaviour of those involved in producing the food. It is important for workers to fully understand how allergens can affect those who suffer from allergies and why following safe systems is critical in food manufacture.
Work towards compliance with UK Food Safety and Hygiene Legislation

Meet the UK training requirements for food handlers

Train online at your own pace with a full audio voiceover

Translations across multiple languages available

Assured by RoSPA & Accredited by CPD

Certificate on successful completion

Course duration: 60 minutes

Unlimited resits at no cost
---
Who is this Online Allergen Awareness in Manufacturing Training for?
This course is for all involved in the manufacture of food products.
---
Allergen Awareness in Manufacturing Training Certification
Our entire library of training courses are accredited by the CPD Certification Service as adhering to the universally recognised Continuing Professional Development (CPD) guidelines.
This training course and it's content has also been assured by RoSPA, the Royal Society for the Prevention of Accidents.
Upon passing the online assessment you will have the options to both print and download your Allergen Awareness in Manufacturing Training Certificate in PDF format. In addition to this an automated email will also be sent to your chosen email address containing a link to your certificate ensuring you always have access to a copy.
Furthermore, a QR code is displayed on each certificate which when scanned by a smartphone links to our certification database. This allows employers, auditors and local authority inspectors, for example, to establish a certificates validity instantly and at any time.
---
Course Screenshots
(click to view images)
---
Course Aim
The aim of this online course is to provide anyone who works in the food manufacturing industry, with a good level of knowledge and understanding of what allergens are, how they can become a food hazard and how they must be handled and controlled in the: Production, delivery, storage, preparation, dispatch and sales of food.
This knowledge is designed to help minimise risk to health for those who handle food and the end consumer. It is also important to understand the importance of following systems, both as an individual worker and as a company.
---
Learning Objectives
On completion of the course, you should be able to:
explain the symptoms caused by allergens
name the 14 allergens named in the legislation
explain what Coeliac disease is and how it is caused
explain how to clean to avoid cross contamination
identify high risk allergens
list the 4 types of food safety hazards
explain what HACCP (Hazard Analysis Critical Control Point) is and why it is important to the food industry
explain the importance of allergen control and risk management
explain what staff training should cover
explain the implications of the December 13th 2014 legislation
---
Training Course Content
This course is made up of the following modules:
An Introduction to Allergen Awareness

This section introduces the learner to the course. It looks at the dangers of allergens and the consequences of eating a food that you may have an allergic reaction to.

Module 1 - Allergens as a Food Safety Hazard

This module concentrates on allergen types, such as the 14 common food allergens, and non-food allergens. It also looks at the symptoms of an allergic reaction, and more seriously, the symptoms of an anaphylactic shock.

This module also covers statistics on allergens and other food safety hazards, such as chemical, physical, and biological.

Module 2 - Coeliac Disease and HACCP

This section of the course covers what Coeliac disease is, and how people who have this disease must be wary of eating certain foods containing gluten.

Within this module, it introduces HACCP (hazard analysis critical control point) and how it plays an important part in minimising the risk of allergen contamination to food. Following this, it looks at the pre-requisites required to ensure that all basic precautions are taken when preparing, cooking or handling food.

Module 3 - Allergen Control and Risk Management

In this final section, you will cover allergen control in food production. As food producers or food handlers, everyone must be aware of the dangers and fully understand the need to implement a whole range of precautionary systems to ensure that allergens are carefully contained.

Finally, this module looks at effective waste management and thorough cleaning processes. Learning this is highly important in acting proficiently to removing risks of cross-contamination of allergens. Also, this module comments on packaging and labelling documented procedures and good practice.
---
Assessment
On completion of the course lessons and training material an online assessment will automatically unlock. The assessment will contain 20 multiple-choice questions and a mark of 75% or above will be required to pass.
The assessment will be marked instantly and so you will know straight away if you have passed or not. If you don't pass first time there's no need to worry. Unlimited resits at absolutely no additional charge are available so you can retake the assessment again as many times as you need to.
---
Available in Multiple Languages
This training course includes machine generated translated content free of charge in the languages listed below:
Bulgarian, Latvian, Lithuanian
Polish, Portuguese, Romanian
Russian & Slovak
Please note: Course content which is not English may be machine translated and is made available for assistive purposes only. We cannot guarantee the accuracy of any translations.
---
Related Online Training Courses
View our current list of Food Hygiene Courses you can take online now.