DSEAR Training Course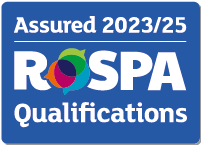 Unlimited Resits Customer Support Instant Access
This DSEAR Training course introduces the potential harm of working with Dangerous Substances and Explosive Atmospheres. Become aware of the responsibilities to confidently identify the dangers and successfully perform a risk assessment in accordance with the current regulations.
This course looks at why the DSEAR regulation is important in protecting the health, safety and lives of workers and members of the public. It looks at what risk assessments should be in place and how a risk assessment should be tailored to suit dangerous substances and explosive atmospheres. Also, the appropriate Personal Protective Equipment (PPE), as well as employee and employer responsibilities.
Work towards compliance with UK Health and Safety legislation

Train online at your own pace with a full audio voiceover

Assured by RoSPA & Accredited by CPD

Certificate on successful completion

Course duration: 35 minutes

Unlimited resits at no cost
---
Who is this Online DSEAR Training for?
An ideal course for any working activity that involves the production, handling and use of dangerous substances. Examples of these working environments could be but not limited to are industrial and commercial premises, construction sites, quarries and mines and also locations where people are carrying out work, i.e on public and private roads.
If you are an employer then it is your duty to assess the risk of fires and explosions potentially occuring at the workplace caused by dangerous substances, either by eliminating the threat or to reduce the risk to a reasonably practicable level.
---
DSEAR Training Certification
Our entire library of training courses are accredited by the CPD Certification Service as adhering to the universally recognised Continuing Professional Development (CPD) guidelines.
This training course and it's content has also been assured by RoSPA, the Royal Society for the Prevention of Accidents.
This training course and it's content has also been assured by RoSPA, the Royal Society for the Prevention of Accidents.
Upon passing the online assessment you will have the options to both print and download your DSEAR Training Certificate in PDF format. In addition to this an automated email will also be sent to your chosen email address containing a link to your certificate ensuring you always have access to a copy.
Furthermore, a QR code is displayed on each certificate which when scanned by a smartphone links to our certification database. This allows employers, auditors and local authority inspectors, for example, to establish a certificates validity instantly and at any time.
---
Course Screenshots
(click to view images)
---
Course Aim
The aim of this DSEAR course is to provide a good level of knowledge on what Dangerous Substances and Explosive Atmosphere Regulations 2002, (DSEAR) is and how it is put in place to help protect and prevent hazards to health when working with harmful substances or explosive atmospheres.
---
Learning Objectives
On completion of this DSEAR course, you should be able to:
Identify what DSEAR stands for
Recognise the dangers of explosive atmospheres
Differentiate between CAD and ATEX
List some activities covered by DSEAR
Identify legislations related to DSEAR
List how explosions may occur
Identify some employee and employer responsibilities
Name the 3 elements of the 'fire triangle'
List what DSEAR requires employers to do
List the 5 steps to conducting a risk assessment
Identify what a safety data sheet is and when it should be used
Recognise the information that should be stated on a safety data sheet
Identify how to store hazardous substances safely
Identify the preventative measures that can be taken to avoid hazards to health
Identify how to use chemicals safely
Recognise how workwear is important in preventing explosions
Identify what 'zones' are
List some emergency procedures that should be in place
---
Training Course Content
This course is made up of the following modules:
An Introduction to DSEAR (Dangerous Substances and Explosive Atmospheres)

This section introduces the learner to the course and looks at a brief history of dangerous substances and explosive atmospheres.

Module 1 - Employee and Employer Duties

This section of the course concentrates on who DSEAR applies to, what activities are covered by DSEAR, the repercussions from working with dangerous substances or in potentially explosive atmospheres if accidents occur and what the employee and employer responsibilities are when it comes to DSEAR within the workplace.

Module 2 - Dangerous Substances and Explosions

This section of the course covers the different types of dangerous substances, for example, chemicals and dusts, and how explosions may occur via ignition. It also looks at the fire triangle, which is important to understand in removing an element to extinguish a fire.

Module 3 - Risk Assessments and Preventative Measures

In this final section, you will cover the importance of risk assessments, and what should be included within a DSEAR specialised risk assessment. It also looks at cause and effect considerations when examining potential situations surrounding dangerous substances and explosive atmospheres. This section also looks at what safety data sheets are, and how they should be used.
---
Assessment
On completion of the course lessons and training material an online assessment will automatically unlock. The assessment will contain 15 multiple-choice questions and a mark of 75% or above will be required to pass.
The assessment will be marked instantly and so you will know straight away if you have passed or not. If you don't pass first time there's no need to worry. Unlimited resits at absolutely no additional charge are available so you can retake the assessment again as many times as you need to.
---
Related Online Training Courses
View our current list of Health and Safety courses you can take online now.
Risk Assessment (Understanding)

For every task that must be undertaken in the workplace it is a legal requirement that a risk assessment must be completed to highlight any hazards that may be encountered. This course will help those responsible for completing risk assessments to do the task successfully. .

Manual Handling (Understanding)

Manual handling is the moving of loads by pushing, pulling, or lifting when machinery is not involved. Many injuries have been caused by these activities and many can be avoided by using correct techniques. This course has been developed for staff where handling bulky or heavy items manually is involved in their jobs. .